Vinh Oanh Co., Ltd., specializes in manufacturing high quality glass products. We would like to introduce a unique production module solution that enhances the company's production efficiency and quality. Let's take a look at the main features of the module.

I. Introduction to the Manufacturing Module

The production module is a multifunctional integrated system, dedicated to the glass production process of Vinh Oanh Co., Ltd. Designed and developed based on advanced technology, modules help optimize production operations, enhance accuracy and minimize manufacturing errors.



II. Main features of the Production Module

Automatic data management: The module allows automatic storage and management of data about products, production processes and finished products. This helps Vinh Oanh company easily retrieve information, analyze effectively and ensure product quality.

Smart Manufacturing Process: The module uses an automatic control system, which improves the glass production process. From cutting, coating, grafting, measurement to quality control, every step is carried out efficiently and accurately.

Material optimization: Based on data and statistics, the module helps to make predictions about the amount of materials needed for each production batch, minimizing waste and production costs.

Automatic Quality Inspection: The module is equipped with sensors and automatic inspection systems to help detect and eliminate potential errors in the production process, ensuring only high-quality products meet the final standard.

Compliance with safety and environmental standards: The production module complies with safety and environmental protection standards, ensuring Vinh Oanh's production process is sustainable and environmentally friendly.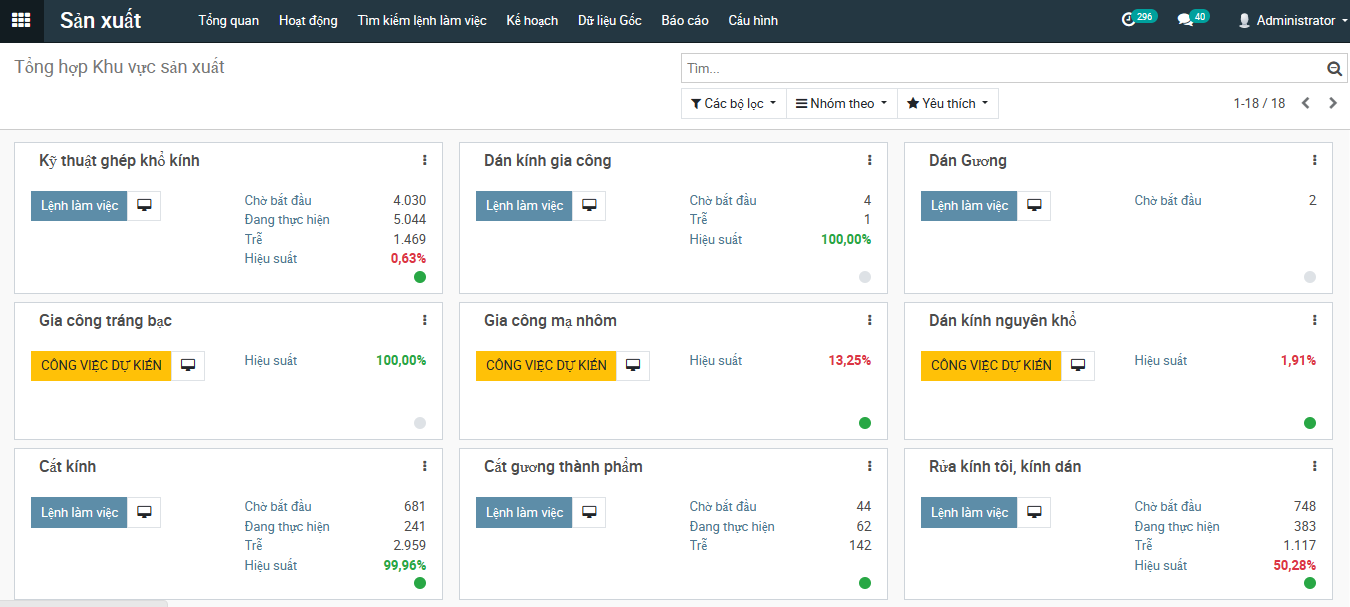 III. Benefits of Manufacturing Module

Improve production efficiency: Modules help optimize production processes, minimize time and labor, thereby increasing productivity and production efficiency.

Product Quality Assurance: Automated inspection systems help eliminate defective products, ensuring only high-quality products leave the factory.

Reduce production costs: Optimizing raw materials, reducing waste and ensuring maximum use of resources will help minimize the company's production costs.

Increase competitiveness: With high product quality and good production performance, Vinh Oanh company will increase competitiveness in the market.

IV. Conclusion

Thanks to the implementation of production modules, Vinh Oanh Co., Ltd. improves its production quality and competitiveness in the high-quality glass market. Efficient and modern, the production module will be an important milestone in the sustainable development of Vinh Oanh in the future.

We believe that the production module solution will bring great benefits to Vinh Oanh Co., Ltd. in improving production quality and competitiveness in the market. If you are interested and want to deploy production modules for businesses, please contact us for advice and answers to all questions.

Contact Information:

Address: No. 16/117 Nguyen Son Street, Gia Thuy Ward, Long Bien District, Hanoi City
Telephone: +(084)943730142
Email: erptoancau@gmail.com
Website: https://erptoancau.com/

Let us support you in improving your production processes and promoting the sustainable development of your business. We are honored to accompany and support you on the path to success